Vegas is the place to unwind and explore. There are many attractions to visit, restaurants to dine in, thrilling adventures to surprise yourself, and new views to discover.
Check out these awesome places and things to do while you are in Las Vegas this spring break.
See the Las Vegas Strip from Above
Starting at only $84 dollars, see the wonderful bright lights of Las Vegas in a helicopter at night. Before boarding one of our state-of-the-art helicopters, sip on a glass of champagne and enjoy one of our awesome games such as giant Jenga and Uno.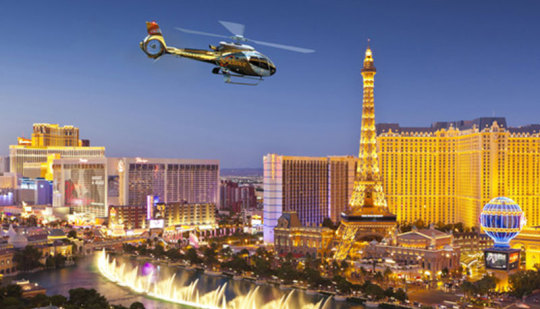 Explore Local Shops
There are so many places to see and explore in Las Vegas and one thing Vegas does well is offer a variety of shopping centers near the strip. Make your way to The Park with their vast selections of dining locations and entertaining options. Not in the mood to stay at the strip? Find yourself at The Container Park located in Downtown Las Vegas. A favorite spot for locals; discover the open-air shopping center filled with retail shops, unique restaurants, live entertainment, bars and more. Nearby, explore the Las Vegas South Premium Outlets, these shops deliver significant discounts on popular brands. Shoppers of all ages will find outlets for both old favorites and trendy new name brands.
See A Show
Take part on a musical journey! Visit the Planet Hollywood Miracle Mile Shops for one of Dave Saxe's production shows such as V The Ultimate Variety Show, the ultimate way to experience the best of Las Vegas entertainment all wrapped up in one action packed show or VEGAS! The Show, which pays homage to legends that helped coin Las Vegas as The Entertainment Capital of the World and named as "The Best Show in Las Vegas" countless times since its opening!
Take Part in the Beauty of Art & History
There is more to Las Vegas than just gambling and beautiful lights. Want to move away from the hustle and bustle of the town and enjoy some quiet time? Explore nearby museums and learn not just about the history of Las Vegas but art as well. Visit the Las Vegas Neon Museum, dedicated to collecting, preserving, studying and exhibiting iconic Las Vegas signs for educational, historic, arts and cultural enrichment. Want a hands-on experience? Las Vegas is largely built on machines and the Pinball Hall of Fame is the place to visit. Equipped with wall to wall machines, the Pinball Hall of Fame delivers fun, a reason why people come to Vegas. If you're looking to learn about history, make your way to an interesting stop. Educating the public of organized crime from vintage Las Vegas to the back alleys of American cities, The Mob Museum provides a world-class, interactive journey through true stories. From the birth of the Mob, to today's headlines.
Bars, Why Not?
Some of the best bars are unique for their architecture, customer service, drinks and the atmosphere. Find yourself at the Minus 5 Ice Bar at the Mandalay Bay as you sip on your favorite drink – at minus 5 degrees temperature! Wanting to skip the cold? Find yourself at one of the best views in Las Vegas at the Mandarin Bar. Enjoy live jazz and delectable cocktail and small bites menus. Want to keep the wonderful views going? Sip under 2 million beaded crystals at The Chandelier at Cosmopolitan. The three levels offer their own experiences. Head to the second for the concoctions of Mariena Mercer, the chef mixologist there. The cocktails feature molecular garnishes made table side from a modern bar cart.
With so many options, there is definitely a place to see, an attraction to experience, and a Vegas visit to create memories. Why not make the most of it in while in Vegas?